See:
https://www.nationaltrust.org.uk/ickworth/
.
Lambs outside the little church at Ickworth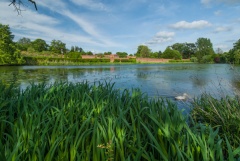 Part of the extensive grounds
Ickworth House and its extensive grounds are located not far from Bury-St-Edmunds in Suffolk. The grounds make a fine place for walks that vary in length from less than a mile to over 7 miles in length. At this time of year there should be plenty of daffodils and young lambs. My wife and I hope to go there this afternoon and walk to the newly restored little church on the estate about 500m from the main house. Although wobbly, I should be able to manage this. The image (LHS) is located at
http://www.britainexpress.com/counties/suffolk/Ickworth_House.htm
.
Very young Ickworth lamb enjoying the sunshine
Part of the main building is nowadays a 4 star hotel called
The Ickworth Hotel.
UPDATE 1645z:
Plenty of lambs at Ickworth but the daffodils are 1-2 weeks behind those at nearby Anglesey Abbey 25 miles west.